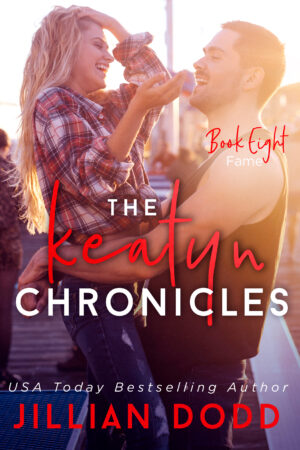 Purchase:
Ebook
Audiobook
Paperback
Follow the lives and loves of those who work at Captive Films in this continuation of The Keatyn Chronicles series:
Keatyn Douglas — Hollywood's sweetheart and owner of Captive Films leads a chaotic, glamorous life. But running a successful film studio, writing scripts, and her own acting career leave little time for the things she dreams of, like marrying the man she loves and having babies. When drama starts at work, she may decide to give it all up for life out of the fast lane.
Riley Johnson — Captive Films' CEO and millionaire playboy is hot, privileged, and seriously single. He's got it all—a brand new jet, exotic cars, a luxury penthouse, and a different aspiring actress (or two) in his bed every night. His life is perfect until the only girl he ever loved walks back into it, causing him to wonder if he truly has it all.
Dawson Johnson — The dark and dreamy marketing consultant joins Captive to escape his past. For the last two years, his sole focus has been on caring for his adorable daughters after tragedy struck their lives. He comes to Captive looking for a fresh start and, if all goes well, he might find a lot more than that in Hollywood.
Knox Daniels — Considered the sexiest man alive by a certain magazine, the sentiment is echoed by the actor's adoring fans. While romance abounds in the roles he plays, he's convinced he'll never find his own happily ever after—until he meets a woman who just might change that.
Shelby Benson — The beautiful cocktail waitress and wanna-be actress struggles to make ends meet. A chance encounter with Riley Johnson is her lucky break and the golden ticket to everything she's ever dreamed of:  fame, power, money, sex, and love.
Also in this series: